Bathroom layouts are challenging by themselves, but things get trickier when you throw a small bathroom in the mix. If you are considering remodeling your bathroom and want some small bathroom ideas, you need not look any further.
Big bathrooms are a luxury; only a handful of us can afford it. However, small bathrooms have so much untouched potential. With the right ideas, design, and execution, you, too, can convert your small bathroom into a mini-sanctuary. Here are the best projects and ideas that you can implement to make our small baths, half-baths, and powder rooms into a functional space.
Use the Right Colors
When it comes to choosing the color scheme of your bathroom, stick to light and bright colors. Why? Light colors tend to open up space. Think white, off-white, peach, etc. Just because you have a small bathroom, it doesn't mean that it has to look small.
You can also stick to light-colored fixtures such as bathtubs, sinks, etc. These will make the bathroom feel more open, airy, and spacious than it is.
Mirror, Mirror(s) on the Wall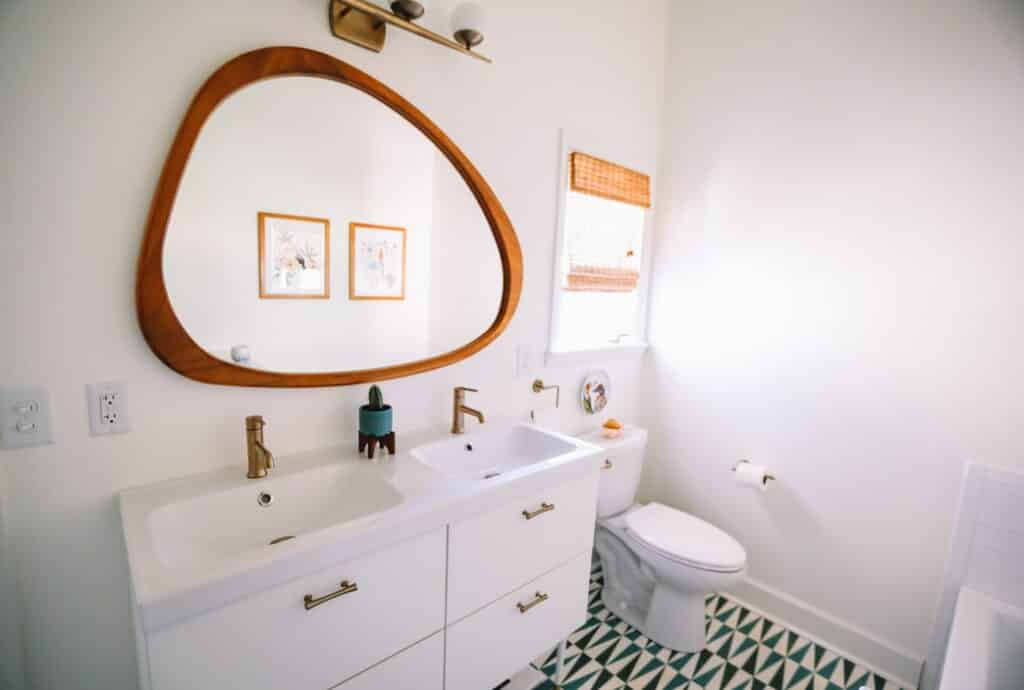 Mirrors in a small bathroom are as close to magic as you're going to get. Mirrors reflect light and pattern. This gives you the illusion of a larger space, and they double the effect of any lighting. You can either mirror a whole wall, preferably the area above the vanity.
If you don't have a vanity, you can also consider adding multiple mirrors above your sink space. Mirrors are a great way of enhancing the space as they essentially double the space you have at your disposal and work wonderfully as small bathrooms ideas.
Use Awkward Spaces
If you have a small bathroom, you're more than likely to have an awkward corner or too. These awkward corners are either too big or too small for something significant to be placed. At least, that's what they look like.
However, these spaces are perfect for innovation. For instance, a corner sink is the best fixture to install in an awkward space. Not only does it make use of this redundant space, but it also frees up the rest of the bathroom for other fixtures.
Use a Pocket Door
While swing-in doors are the norm, they consume quite a lot of space. Space, however, is a dear luxury in small bathrooms. To make the most of your bathroom space, replace these doors with nifty pocket doors.
Granted, you do have to open up your wall, and the process is a bit labor-intensive. However, you can gain upto nine sq.ft of usable space in your small bathroom.
Get Rid of Your Tub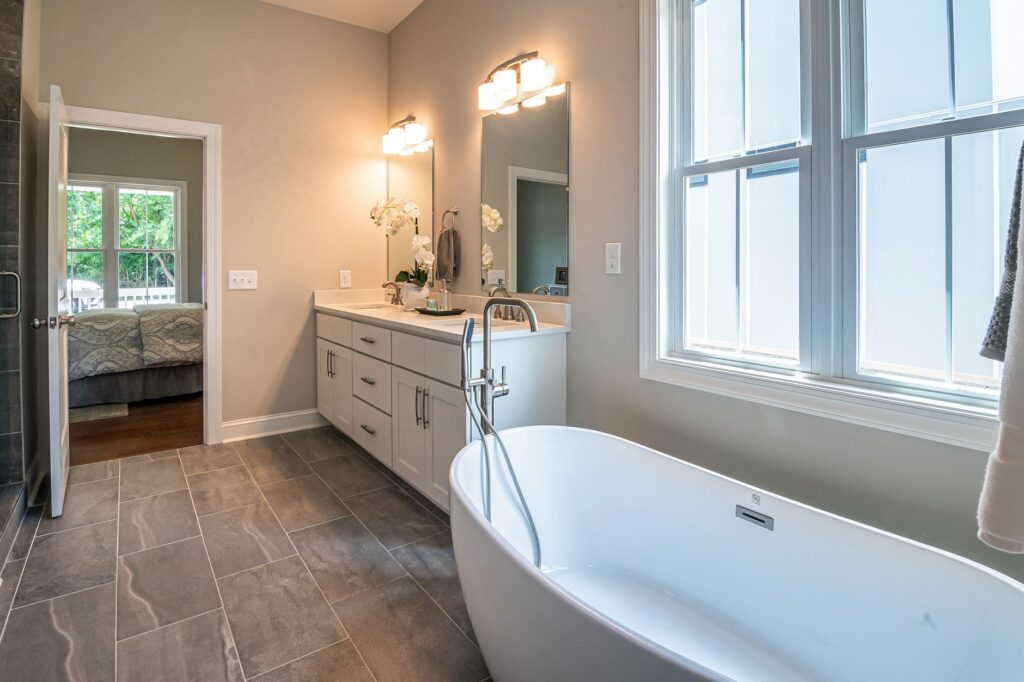 Tubs take up considerable space in your bathroom, often twice as much as showers do. Not only are showers more practical, but they also save a ton of space. If you have a small guest bathroom, you might want to consider doing this. Showers are ideal for older people, kids, people with disabilities, etc.
However, if you must install a tub, consider a low-profile one. Low-profile tubs are easier to get in and out of. They also make the bathroom feel more open than a standard tub.
Be Creative with Tiles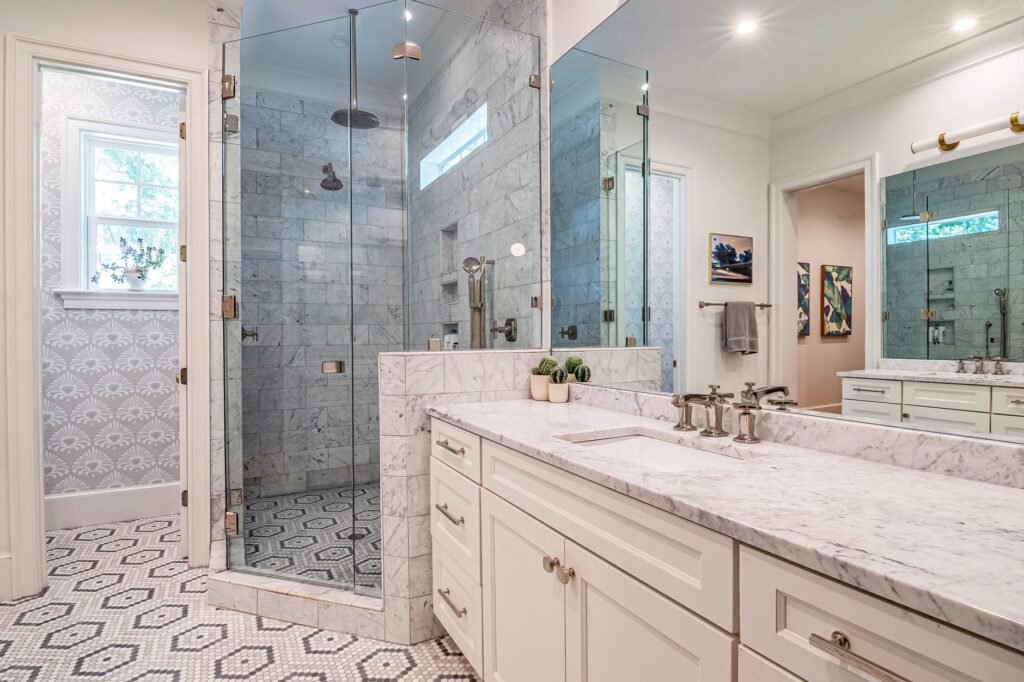 Just because you have a small bathroom doesn't mean that it has to be perceived as little. How? Continuous tiling is the name of the game. Continuing the flooring into the shower space or on the tub's back wall is a great way of providing the illusion of a larger space. If you have a shower space, consider transforming it into a curbless shower.
The now eliminated curb will further highlight the continuous flooring and its effect.
Choose the Right Furniture
There's nothing worse than oversized furniture in a small bathroom. Large furniture is enough to dwarf all your efforts to design your small bathroom.
Choose vanities and other fixtures that are proportional to the size of your bathroom. Otherwise, moving around your small bathroom will be quite a challenge for you and your family.
You can opt for smaller sinks and floating vanities to make it easier for you. These choices will help you save a ton of space in your bathroom without compromising on the functionality.
Choose Smart Storage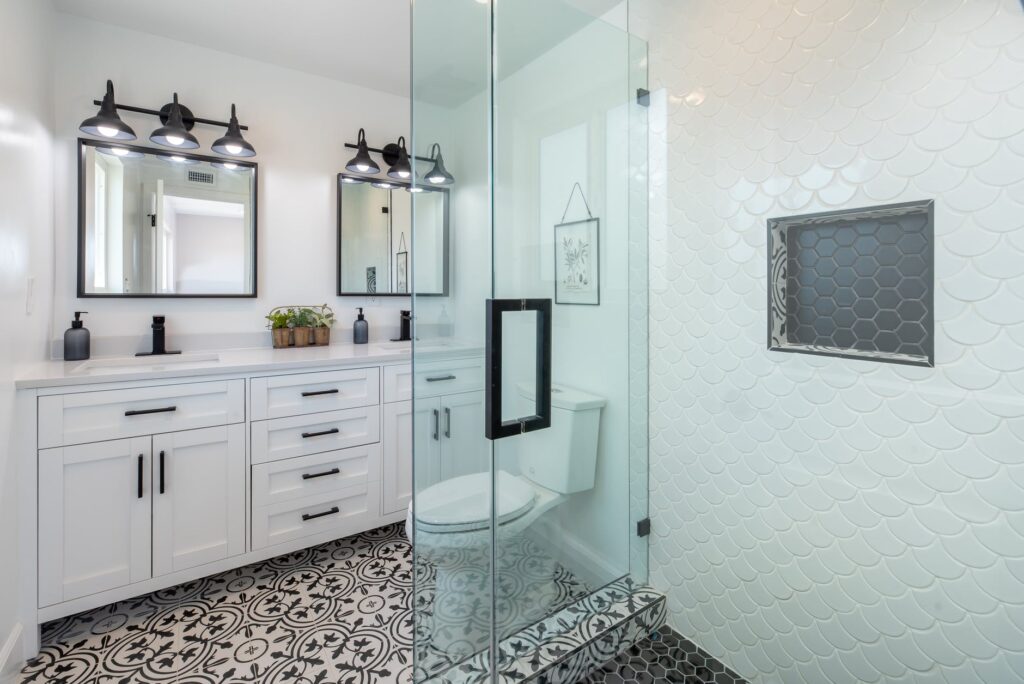 Storage is a necessary evil in bathrooms. Recessed shelves and shower cubbies are your best bet. They do not take any extra space and do the job just fine. For other storage options like cabinets, stick to the walls.
Floating vanities, glass-front cabinets, open shelves are your best choices when it comes to storing essentials in your bathroom.
Keep It Simple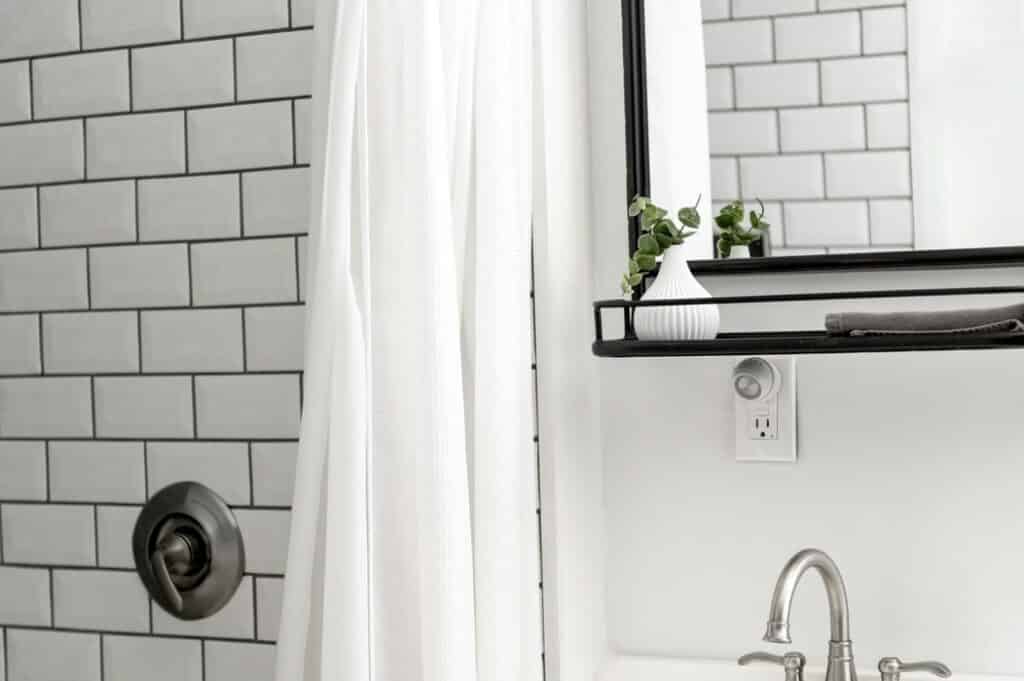 It's relatively easy to get carried away while designing your small bathroom. However, it's always better to keep things as simple as possible. Clean lines, simple designs will give your bathroom a sharp look.
On the contrary, if a lot is going on with patterns, designs, and fixtures, it will look more crowded and compact than it needs to be.
Add an Accent Wall
Just because you have to keep things simple doesn't mean that it has to be boring. An accent wall is a great way of introducing some color and brightness in your bathroom space. Ideally, the back wall should be the accent wall.
You can choose to color the whole wall or simply a patch. Here, the idea is to introduce a break from the monotony of the standard bathroom design and add a focal point to space.
Designing a small bathroom is as simple as it is tricky. The key is to make smart decisions and to work with what you have. Remember, just because the space is small, doesn't mean that you cannot make it beautiful and functional. By following these tips and small bathroom ideas, you can get a good head-start on your next bathroom project.